*After Jan 22, 2006 the Energy System Laboratory will require Seer 14 A/C units when using R-6 duct work - ESL Letter, PDF Link
Note: In ESL letter there other are ways to use R-6 duct work.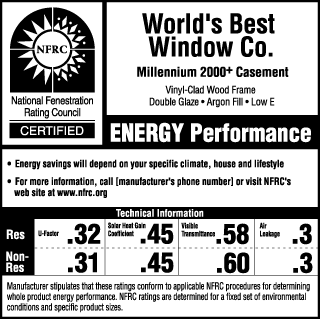 The code requires NFRC window labeling to take advantages of the Increase in U-Value or SHGC.

Most Commercial windows do not have NFRC labeling. Therefore it is expensive to prove that a windows will meet the SHGC, of equal to, or less than 0.40, mandated in the parts of the country that are below 3,500 HDD (as is required in most of Texas).
To determine the thermal and solar optical properties of unlabeled glazing and window systems we can run Optics5, THERM 5, or WINDOW 5 software model simulator. In some cities this is all that is need.


Texas Inacts IECC Energy Standards:
Senate Bill 5, Chapter 386. Texas Emissions Reduction Plan, makes International Energy Conservation Code (IECC) 2000 the state energy code. Link to chapter 386